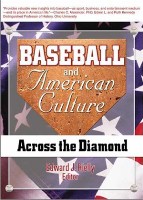 Includes Essay written by Dan Zamudio
"Baseball Poetry: Society's Overlooked and Underestimated Literary Art Form"

Discover baseball's role in American society!

Baseball and American Culture: Across the Diamond is a thoughtful look at baseball's impact on
American society through the eyes of the game's foremost scholars, historians, and commentators. Edited
by Dr. Edward J. Rielly, author of Baseball: An Encyclopedia of Popular Culture, the book examines
how baseball and society intersect and interact, and how the quintessential American game reflects and
affects American culture. Enlightening and entertaining, Baseball and American Culture presents a
multidisciplinary perspective on baseball's involvement in virtually every important social
development in the United States — past and present.

Baseball and American Culture: Across the Diamond is an essential read for baseball fans and
historians, academics involved in sports literature and popular culture, and students of American society.

Order Now! www.haworthpress.com

To read articles about Dan Zamudio and his books Chicago Neon Signs, Catcher in the Wry and
How to Sneak into the Movies please visit the Press link.