"CATCHER IN THE WRY- Baseball Poems"
by Dan Zamudio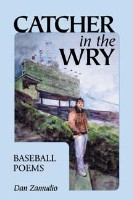 In sparing lines and with a reluctant irony reminiscent of Holden Caulfield, Dan Zamudio
deadpans his way through more than 100 poems on baseball. It is a teen's smirk the
speaker wears, telling us that a "slight distraction / always helps" when you're tendering a
month-old ticket for today's game ("Say, who's pitching today?")—and when the teacher
leaves the room, "Long / unsharpened / pencils / swing across / desk tops, / connect with /
inside pitches"("Hurry, she's coming!"). In Chicago, the poet's hometown, the South Side
may have Buddy Guys, but Wrigley is still the best known venue for the blues ("Blues").

Sharing the delights of poetry and baseball without condescension, the author meets young
adults and thus all of us on common ground, engaging with familiar language and anecdotes
that part of life still pretending to distrust anyone over the age of 30.


REVIEWS

NINE: A Journal of Baseball History and Culture
Vol. 12 No.2 2004
Excerpt of review by Richard Crepeau

"Zamudio is a Cub fan, a Chicago Northsider, who brings a great deal of passion to his
subject...Zamudio's poetry ranges well beyond the Cubs and touches on many marks
and landmarks of the game, taking us beyond the friendly confines to other venues past
and present. He references the broader baseball experience from across his years and
captures a nice feel of the game along the way. His language is spare, and at times
cryptic, delivered with a wink or a knowing smile. My favorite from this collection is
a brief and sharp piece entitled "Hustle and Energy", in which a high school baseball
coach makes it clear to his players the requirements to make the team. The response
of the players is wry and wonderfully understated."


AETHLON: The Journal of Sport Literature
Vol. XXII No.2 2004
Excerpt of review by Dale Ritterbusch

"Dan Zamudio's collection is filled with terse, often humorous pieces that in their ironic
design (hence the title) achieve something of the effect of haiku. Often, however, the
effect is fleeting, conjuring moments that all baseball fans share and recognize..."


To read articles about Dan Zamudio and his books Chicago Neon Signs, Catcher in the Wry and
How to Sneak into the Movies please visit the Press link.

To order your copy please visit these two links or call (773) 316-5528

www.amazon.com

www.mcfarland.com


[BACK]